If YouTube was your one stop destination for videos, now it will become your one stop destination for movies as well. YouTube and Intel have partnered to bring you the latest blockbusters online. You can log on to www.youtube.com/BoxOffice to get started.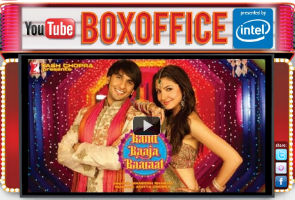 Opening the box office in India is Yash Raj Film's Band Baaja Baaraat. Users will have the option to view the movie in 720p and 1080p apart from the other standard resolutions.
Continuous play will however depend on the Internet speed. Movie trivia and contests also make an appearance on this YouTube page to add to the Bollywood novelty. Deleted scenes, making of the movie and other features that are available on the movie DVD will also be available. YouTube already has a movies channel that lets you watch movies for free but this initiative by Google in India Intel will bring the big blockbuster titles to the web screen.
With the growth in broadband penetration and increasing Internet speeds in India, the day seems pretty close when a large number of households will be able to stream movies to their TVs directly from the web. With Netflix making its intentions clear to enter the Indian market, we will soon see great competition in the online movie streaming business.
Related Posts
New Features in Apple's new mobile OS, iOS5
Google and Facebook warn on new system test