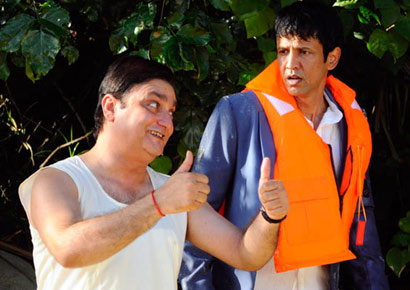 Vinay Pathak and Kay Kay Menon in Bheja Fry 2
Film: Bheja Fry 2 (U)

Cast: Vinay Pathak, Minissha Lamba, Amole Gupte, Kay Kay Menon, Suresh Menon, Rahul Vohra and Aditi Govitrikar
Director: Sagar Ballary
Rating: Half a star
Sagar Ballary's Bheja Fry (2007) had earned itself a decent following among fans of clean, unpretentious comedy with the dim-witted Bharat Bhushan (Pathak) and aggressive Rajat Kapoor anchoring it.
The first part's success (a remake of French film Le Dîner de Cons) made way for Bheja Fry 2, whichbears the burden of frying the viewers' brain on its utterly weak shoulders. Ballary took the title a bit too seriously this time. So serious, he forgot to add humour.
The premise of Bheja Fry 2 remains the same as its predecessor. Annoyingly talkative income tax officer Bharat Bhushan has kept alive his 'purana sapna' of cutting a music album of his own. Bhushan emerges as the winner of a reality contest which takes him on a luxury cruise where he meets industrialist Ajit Talwar (Menon).
Tax evader Ajit Talwar is convinced Bhushan is out to get him, while all the latter wants is to have a little fun on the ship. TV serial producer Ranjini (Lamba) is the only one who seems to see within the awful singer whose innocent, helping nature tends to put people off permanently. And that's exactly what happens when Bhushan and Talwar are stranded on an island with no sight of life. Most of the film unfolds in the island.
Even Akshay Kumar's dumbed-down pseudo comedies like Tees Maar Khan and Khatta Meetha look like masterpieces when compared to the insipidness of Bheja Fry 2.
Pathak's act worsens as the film progresses, beginning as the lovable idiot and ending as one whose sight you cannot stand.
Look at the Menons in Bheja Fry 2 if you want to know what it is like to be caught in a bad marriage. No, no, they're not married to each other in the movie. No matter how hard they work or well they play their parts, nothing can save this rancid pickle of a marriage with Bheja Fry 2.
Both Kay Kay and Suresh (tends to go overboard at times) and Govitrikar are decent and bearable. The cruise setting seems like Ballary's gimmick to cover the lack of humour, intelligent dialogue, glaring holes in screenplay, story and everything a film's made of.
It's surprising to see someone like Gupte risk his credibility as a good filmmaker and actor with such frivolous roles.
Bheja Fry 2 lives up to its name, deep-frying your head with its bland existence two times over. Bellary has said in an interview that he wasn't keen on Bheja Fry 3. Thank God for small mercies.