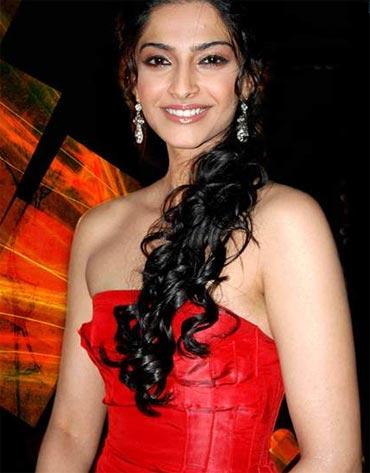 It's Sonam Kapoor's birthday today and sister Rhea Kapoor was busy planning the perfect treat.
Rhea Kapoor tweeted: 'Gearing up for @sonamakapoor's birthday. This means ordering the most indulgent chocolate cake ever and then convincing her that its 'diet''
It was a family affair for the Kapoors. 'Sitting with my family is the most special thing ever! Thank you @RheaKapoor @moh_m arjun, shehlu @anshulakapoor and kunal.. And mom! Love u' Sonam wrote.
Meanwhile, Shilpa Shetty, who turned 36 yesterday thanked everyone for their wishes. 'Thaaaannnkkkuuuuuuuu for all the lovely Bday wishes. Overwhelmed with all the love:) warm hugs to all of u on Twitter..love ya tweetos xxx' she tweeted.